In 1952 the young Cannon brothers started their Stone Gate herd with the purchase of three Angus heifers from a local breeder. Their intent was to produce 4-H club steers to show but as time went on and numbers increased, they started selling bulls to local cattlemen.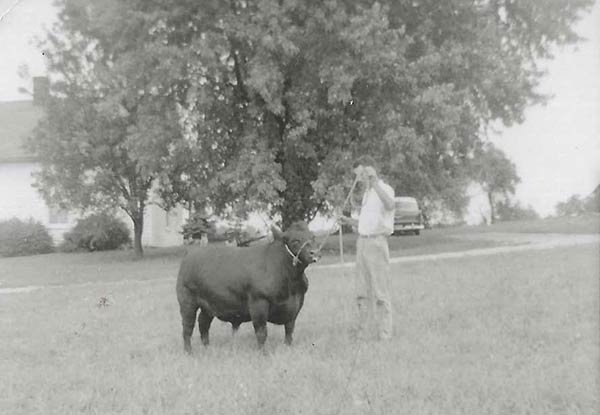 A valuable lesson was learned early on when selling bulls to these commercial cattlemen as they picked the biggest bulls first. In that day the popular cattle in the show pen were short and blocky. The commercial operator sold pounds and they knew what would work best in the real world. The boys knew then that in order to have a breeding program that provided seed stock for the commercial producer, they better start providing cattle that worked.
In search of bigger Angus cattle, Charles and Jere visited Hidden Hills Farm of Maryland in 1961. At that time they purchased H H Executive 11.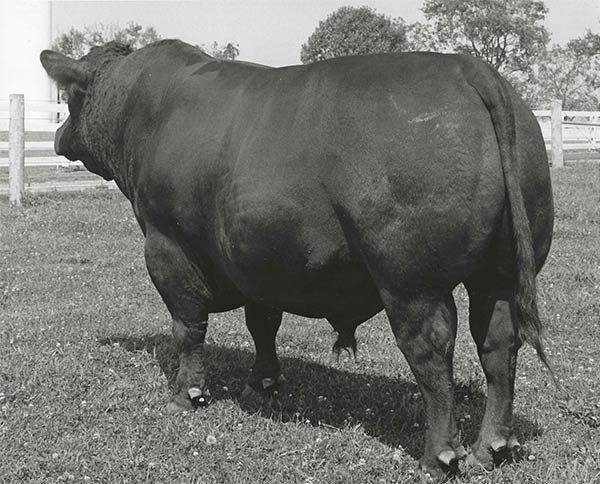 He weighed 1120 pounds at a year, which was a significant feat in that day. He sired a lot of high performing, sale topping cattle throughout Ohio, West Virginia and Kentucky. The University of Kentucky believed in him also and purchased a half interest.
The first cows that made a significant impact on our program were purchased from Monocacy Farm, who happened to be a neighbor to Hidden Hills. Monocacy Farms were by chance selling their entire herd privately and 15 head were selected. These cows would easily work in our herd today as they became the prototype for the Stone Gate cow. Our Eurotia and Joy Erica cow families stem from that herd and now make up almost half of our herd today. Another significant influence on our early genetics were cows purchased from Ken Clarke's Craigie herd in West Virginia. These cows were efficient and displayed the maternal traits that the Angus cow is known for. Mr. Clarke was a great teacher and influenced our breeding philosophy; stressing fertility, longevity, good udders and mothering ability as essential traits to profitable cattle. Another well known herd today has the influence of the Craigie herd, The Conneally Ranch in Nebraska.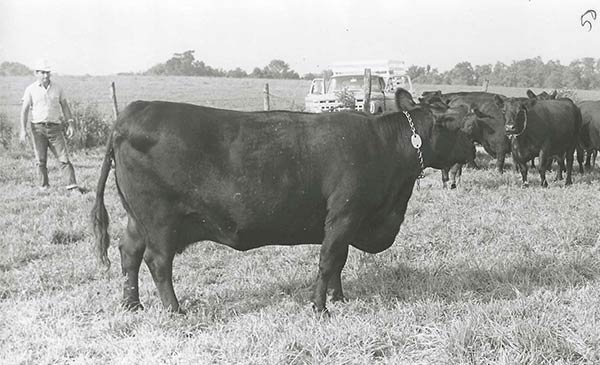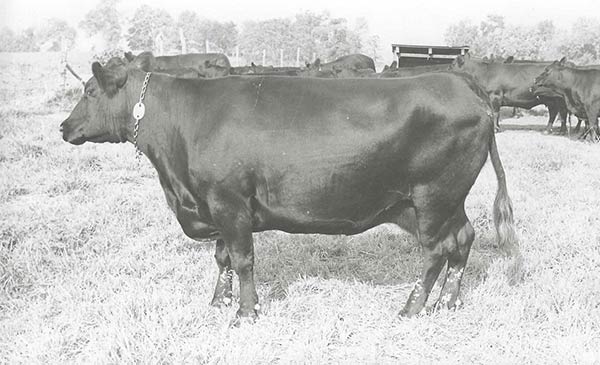 In 1957 our herd was enrolled in a new performance program through the University of Kentucky and in 1967 we enrolled in the Angus Herd Improvement program (AHIR). It didn't take long to understand the importance of collecting performance data and using it in breeding decisions. Now our commercial customers could pick bulls that not only met the eye test but could view their individual performance and see how his dam had performed within the herd. Today we are blessed with technology that provides us with a wide range of information. Being able to pinpoint data for so many specific traits is impressive but we have learned one important detail that has stayed constant over the years, never select for extremes in any one trait! It is a trap you can easily fall into and will almost certainly end in disappointment. We live in a fast paced world and it is easy to get caught up in marketing schemes that promote these extreme traits to help move your program forward quicker. The realty is cattle breeding takes time and will not reward you for taking short cuts. We have a breeding philosophy that has stood the test of time because we have always been cattle breeders first and cattle marketers second. Our breeding philosophy is simple, keep the Angus cow efficient. Those animals that push the extremes in our herd usually find their way to the local stockyards because they can't compete with the so called middle of the road cow that breeds back every year and weans a good calf. This may not be as exciting as talking up a high numbered individual but we get excited when a cow quietly goes about her job and puts money in the bank. The Stone Gate cow is efficient because of years of genetic selection for the traits that Angus cattle are known for. Our cattle work for us instead of us working for them.
Agriculture has always been our sole source of income. This has forced us to be a disciplined and cost conscience operation. We have had many challenging situations affect us over the years, most were out of our control but this has only made our cattle better. Our cows have had to perform optimally on the resources available, year in and year out, with a few additional supplements when needed to meet the cow's needs. Having to depend on supplementing feed all the time makes a fat cow but it sure creates a thin wallet. Commercial cattlemen cannot operate in this manner and it has always been a priority for us to provide seed stock that can face the challenges of reality and thrive.
Today's herd consists of 400 registered and 200 commercial cows. We have two sales a year, offering registered bulls and females in our annual spring sale, the first Monday of March and our second sale on the last Monday in October offers registered bulls and commercial females. We not only welcome you to attend these sales but hope that you will visit us anytime to view our cattle.